DRT Judgments Favourable to Borrowers and Guarantors – Now Full text of such Judgments is being provided on this Web Site with Important Portions marked in Red
For reference of such judgments please click DRT Judgments Favourable / Useful to Borrowers
Important Tip to Old and New Visitors:- The left side photo is of Mr. B.S. Malik, having court practice of 42 years out of which 25 years were in Supreme Court. He ventured into industry and his unit became sick and closed. He got his defence and counterclaim prepared by us. The damage claim was filed by him on 13.01.05 and a video interview of Mr. Malik was conducted on 23.01.05. The synopsis of 18 clips is given below You may take out the print and study the same. Listening to the video interview will be further useful. You may select the clips for replay for discussions with your colleagues as well as the advocates As an example, the extract from Clip No 13 will play (three times) here itself on the right side. Please wait for 2 to 5 minutes for the download and keep your speakers connected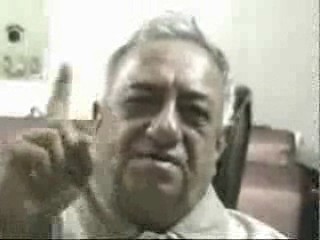 Video CD containing Interview of Mr. B.S. Malik, the Supreme Court Advocate, on Bank Litigations and Counter-claim - edited, split and indexed into 18 clips with synopsis for most user friendly applications :- This video interview (edited and split into 18 clips in the same CD) will be immensely useful to industrialists, borrowers, guarantors, chartered accountants, advocates, lawyers and bank litigants in DRTs. The details and the synopsis of the said 18 clips is given below. These small clips can be noted and replayed before colleagues and lawyers. Mr. Malik, in simple language explains legal concepts behind industrial finance, bank litigations and counter-suit. This CD will enable the viewers to communicate with their advocates in a more meaningful manner.
Synopsis
of
Video Interview (edited & split into 18 clips) of
BS Malik,
Supreme Court Advocate
Introduction:- For the convenience of the viewers, this video CD has been edited and split into small video clips which are 18 in numbers starting from AVSEQ01 TO AVSEQ18. Their duration, title and synopsis of each clip are detailed below. With such arrangement, the viewer may choose the clips for replay before his colleagues or his lawyers.
AVSEQ01 – Clip No-1, Duration-4 min 18 secs
Title mentioned in the Clip :- Introduction of BS Malik, Supreme Court Advocate and his reactions on filing his damage suit of Rs. 1825 Crores against Bank
Synopsis of this Clip:- Ram Kishan gives introduction of Mr. BS Malik. The highlight is that Mr. Malik has court practice of 42 years out of which he spent 25 years in the Supreme Court. After such experience he promoted a medium scale Industrial Unit which became sick. He had been in constant touch with us since 2001 with several exchange of views on legal matters. Being a legal luminary with an industrial experience, he could understand our concepts, which are difficult for the average lawyers and advocates. He was frank enough to admit that he also took time to understand our concept and approach by way of application of law of torts and filing of damage suits in place of writ petitions.
AVSEQ02 – Clip No-2, Duration-2 min 58 secs
Title – Malik's Views on the Impact and Repercussions of the Damage Suit on the Bank and the Entrepreneur
Synopsis :- Malik mentions the negligence of the bank and its failure to perform statutory duties and states that the bank will not be able to come out till the damages are paid. If the bank delays, the interest on damages will increase.
AVSEQ03 – Clip No-3, Duration-1 min 35 secs
Title - Malik's Presentation on the views of the Lawyer Community about his Damage Suit on the Bank.
Synopsis :- In the views of Mr. Malik this is a virgin field for the lawyers. They had no exposure, opportunity or time for such legal research. The work involved is highly time consuming. The lawyers have no time for such research as they are not free from routine day to day work.
AVSEQ04 – Clip No-4, Duration-2 min 55 secs
Title - Malik's confirmation that the only remedy is filing of Damage Suit instead of Writ Petition
Synopsis :- Mr. Malik states that he was all along of this view to file writ petition in the High Court for the violations committed by the banks. It is only after long discussions with Mr. Ram Kishan he came to conclusion and was fully convinced that the only and the best remedy is to file damage suit in the civil court. .
AVSEQ05– Clip No-5, Duration-0 min 57 secs
Title - Malik's confirmation that he was fully convinced before filing of the Damage Suit as drafted by us.
Synopsis :- Mr. Malik states that he was fully convinced before filing the damage suit against the bank.
AVSEQ06– Clip No-6, Duration-1 min 11 secs
Title- Malik's confirmation that wrongdoings by Bank were intentional, further details visit www.drtsolutions.com or www.drt.in
Synopsis :- Mr. Malik confirms that in the legal parlance the wrongdoings by the bank will be regarded only intentional whether they are intentional or not.
AVSEQ07– Clip No-7, Duration-3 min 29 secs
Title - Malik's Views on NPA and who created NPA, further details visit www.drtsolutions.com or www.drt.in
Synopsis :- Mr. Malik refers to the definition of NPA but in his view most important question is as to who created NPA. He mentions about non-performing babus, non-performing bankers, non-performing bureaucrats. He concurs with our approach to file a civil suit which will determine as to who created NPA. Let it take few years as it involves interest on damages. He is fully convinced about our approach.
AVSEQ08– Clip No-8, Duration-1 min 38 secs
Title - Malik's validation of our concepts, further details visit www.drtsolutions.com or www.drt.in
Synopsis :- Mr. Malik refers to the several discussions which he had with us and there after he was convinced that ours is the only correct legal approach for a correct solution which can give you relief and this is the only remedy. There is no other remedy
AVSEQ09– Clip No-9, Duration-4 min 54 secs
Title - Malik's concurs with our contentions that bank transactions are not contract, further details visit www.drt.in or www.drtsolutions.com
Synopsis :- Mr. Malik concurs our view that there is fallacy of bank transactions based on contracts. There can never be contractual relations between borrowers and bankers. He refers to the case of Mardia Chemicals. There were eminent lawyers but they all proceeded on wrong base i.e. there were contractual obligations between the borrowers and lending bank. Mr. Malik concurred with our views that there was no question of contract. Wrong base will lead to wrong decision. In case of Mardia chemicals the contractual base and doctrine of Promisory Estoppel, both are wrong. The correct approach is breach of statutory duties as per the RBI Guidelines. Mr. Malik frankly admitted and mentioned that after hours together long discussions with Mr.Ram Kishan, he changed his views. Now he was fully convinced that there can not be any contract.
AVSEQ10– Clip No-10, Duration-2 min 15 secs
Title – Malik agrees that only remedy is damage suit or counter-claim, further details visit www.drtsolutions.com or www.drt.in
Synopsis :- Mr. Malik stats that lawyers have not yet touched this virgin field. The only remedy is damages and compensation. Nobody has gone in this direction. People are mistaken that the bureaucracy is unaccountable. Filing of damage suit will create the sense of responsibility and accountability.
AVSEQ11– Clip No-11, Duration-2 min 51 secs
Title- Malik's appreciates our pleadings and counter-claim, for details visit www.drtsolutions.com or www.drt.in
Synopsis :- Mr. Malik admitted that had he prepared his own case, he would have been defeated. This is on account of his mindset to file writ petitions in the High Court. But the way the pleadings have been prepared by DRT Legal Solutions by going through each and every letter since 1993, segregating those applicable and then mentioning them in the pleadings, is to be appreciated. He mentioned that his lawyer who is handling the case in the civil court is Mr. DP Gupta who is quite famous in civil law due to his mastery of the field. He studied the pleadings for 10 days and advised that not even a single comma should be changed. Mr. Malik said "Ram Kishanji I must admire your perfection in pleadings and drafing".
AVSEQ12– Clip No-12, Duration-1 min 38 secs
Title – Malik highly hopeful of winning damages, further details visit www.drt.in or www.drtsolutions.com
Synopsis :- Mr. Malik now tells his family and children that they should never dispose off the project howsoever time the litigation may take. The damage suit will provide compensation for the loss and damages.
AVSEQ13– Clip No-13, Duration-1 min 23 secs
Title - Malik's praises Ram Kishan for legal revolution in the country, further details visit www.drt.in or www.drtsolutions.com
Synopsis :- Mr. Malik said "Ram Kishanji, Entrepreneurs and Citizens in this country will attribute to only one person for the biggest legal reform and who opened their closed mind, it would be only Ram Kishan, this is only due to you.".
AVSEQ14– Clip No-14, Duration-1 min 24 secs
Title – Malik appreciates our capabilities and knowledge in drafting suit, further details visit www.drtsolutions.com or www.drt.in
Synopsis :- Mr. Malik is surprised to go through the massive pleadings. He appreciated the labour put in to draft the damage suit and counter-claim. He states " How much clear are your fundas, clarity to be appreciated, its beyond my imagination"
AVSEQ15– Clip No-15, Duration-2 min 16 secs
Title – Malik appreciates damage suit and its format, further details visit www.drtsolutions.com or www.drt.in
Synopsis :- Mr. Malik stated that all his 3 sons are advocates. I have told only one thing to our civil lawyer Mr. DP Gupta that they should read and read first 20 pages. Every para should be read and reread again and again as every para contains new concept. Every para is a master piece. These pages are the summary of the entire case.
AVSEQ16– Clip No-16, Duration-6 min 08 secs
Title – Malik describes conditions of entrepreneurs and Lawyers, further details visit www.drtsolutions.com or www.drt.in
Synopsis :- Mr. Malik admitted that as lawyers we are not properly equipped to advice the entrepreneurs. The entrepreneur is innocent. He is in tension. He is after the bankers. There is no fear in the bankers even if they are starving the projects. He is unable to pay the employees, even he is facing actions under sec 138 of the NI Act. Actually the bankers should be punished and jailed. Even the lawyers do not have clear concept. This fight will go upto Supreme Court. It is banker's duty to provide the working capital, entrepreneur is not concerned whether the file is with AGM or GM as it is internal matter of the bank. This should not be the reason for dishonour of the cheques. It is the criminal negligence of the bank. It is the duty of the bank to provide timely finance. Fault is of the banker. Mr. Malik said that he would not compromise. He is keen to get the legal principles decided as a service to the industry and country. He regards this as his duty being a senior advocate having 42 years of court practice as he has seen and achieved everything in life. Now this has become his mission. He got motivated by observing missionary zeal of Mr. Ram Kishan. He would take his case to logical conclusions and it would create a legal history.
AVSEQ17– Clip No-17, Duration-3 min 53 secs
Title - Malik validates application of RBI Guidelines and Law of Torts, further details visit www.drtsolutions.com or www.drt.in
Synopsis :- The bankers are duty bound to follow statutory RBI Guidelines in existence since 1976. At present they are ignoring the said guidelines as they are not afraid of anybody. It is only decision of the court in the matter of damage suits, they would follow the said guidelines. The findings of the courts will compel them to do so. Had Mr. Mardia brought about all these aspects, better decision would have come. The bankers would suffer as they are accountable. The bankers have not been punished for their failure to do their prescribed duties. They have not been affected for not following the guidelines so far. In future courts will pass decrees in the damage suits, then they will definitely follow the said guidelines. There is sheer ignorance of the entrepreneurs despite having CAs and Lawyers. The CAs and Lawyers are not having proper clarities. After the judgments on the damage suits, all these things will be well known..
AVSEQ18– Clip No-18, Duration-10 min 3 secs
Title – Malik describes legal foundation of industries based on Constitution and IDR Act 1951, further details visit www.drtsolutions.com or www.drt.in
Synopsis :- Mr. Malik cites the Sholapur Spinning Mill case with reference to the IDR Act 1951. An entrepreneur Chirangilal filed a writ petition. Mr. Malik then dealt with the concept of industry. The industries are of national importance for economic growth of the country If there is any mismanagement, the government can take over anytime. Thus the industries are valuable national assets. Hence it is misnomer that the industry belongs to the entrepreneurs. Actually the entrepreneur has got a limited role. As per the national policy, there are development corporations in each states for uniform development of the country. In Industrial Policy Resolution of 1956, it was realized that the entrepreneur base of the country was very weak.. 1956 policy gave primacy to the role of the state to assume direct and predominant responsibility for industrialization. Hence it is primary duty of the government to develop and grow the industries. for economic growth, employment, poverty alleviation, earning foreign exchange, development of priority sectors like small scale industries and agriculture etc. are under a national policy. The banks have the duty, role and responsibility to provide working capital. It is not the sweet will or desire of the banks to decline working capital. It is not their choice. Once a bank decides to participate, all other stakeholders including the entrepreneur contribute their funds, energy and other resources. Once they commit, they are bound to perform.